The Chocospherian

Incredible Chocolate News

June 8th, 2022
Written By: Joanne and The Chocosphere Team
---
Joanne's Observations
Chocolate is Happening!
Chocolate makers are popping up all over the place and about once a week I get a request from a new-to-Chocosphere maker to carry their products. There are samples on my desk right now that our crew and tasting panel will try over the next several weeks and more samples are on the way. Among the chocolates being offered for sale at Chocosphere, as well as some we offer already, are those that are alternatively sweetened. It seems that more and more manufacturers of chocolate and other food products are trying to offer options without refined sugar.
Trying to reduce refined sugar?
I try to reduce the amount of refined sugar in my diet, to limit my intake of empty calories and in the interest of maintaining my health. I try to use honey in my baking when practical. About a week ago I baked a Challah bread with honey instead of sugar and it was wonderful! Our selection of Honeymoon Chocolate, made with honey instead of refined sugar, offers a great way to enjoy chocolate without refined sugar. The texture and mouth feel is different than conventionally sweetened chocolate, but Honeymoon's flavors are delicious and very enjoyable. I have some on my desk now.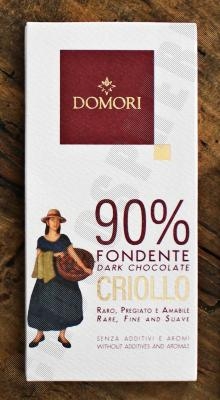 I eat a lot of chocolate, and I continue to enjoy a fair amount of Valrhona Guanaja and anything Domori. Wanting to enjoy delicious chocolate while limiting refined sugar, I've developed a taste for 99%-100% cacao chocolate. One of my favorites in that group are the individually-wrapped squares of Michel Cluizel's Noir Infini, because a square is just the right amount. Unfortunately Noir Infini will soon be available only as a 70g bar because Michel Cluizel is discontinuing all their squares in the U.S. market due to ongoing supply chain issues. I have my last stash and when it's gone I guess I'll have to switch to the bars and use this as an opportunity to explore other high cacao and low sugar options. Speaking of Domori, they make some nice high cacao percentage chocolates, like the Criollo 90% bar pictured!
Chocolate is good for you…
Really, it is!
There are so many 'good for you' aspects of cacao it's a wonder we don't eat more. According to the National Library of Medicine, "Chocolate is best known as an indulgent confection, but historically it has also been consumed for its purported healing properties." Cacao has good fat, fiber, minerals and a bunch of other big words that mean great things may happen if you eat chocolate, as long as there isn't too much sugar. Here's a link to the article; You can read it if you want to know more.
---
Father's Day
Father's Day is Around the Corner!
Dad loves chocolate, right? If you order right away we can get a delicious chocolate gift to your father in time for that special day. If you're trying to decide what to send and need some ideas, check our Father's Day Gift Collections page where you'll many possibilities. If you want Dad to pick for himself, or you're concerned about the gift arriving in time, you can always send a Chocosphere Gift Certificate.
---
Inflation
Chocolate prices are rising and so is the cost of shipping
We see the rise in prices of all of our products, shipping by air, land and sea, labor, and other costs associated with running a business. The cost of shipping products to you continues to rise as well. We are trying to hold down costs as best we can and please know that we feel what you pay for our products is very competitive. One way to minimize your shipping cost when you order online is to use the "If it fits, it ships!" option at check out if you know that the items you are purchasing are not physically large. For many orders it is likely that the products will fit in one of the special rate boxes we can use to ship your order. If that is the case it will only cost $12.95 to ship and will include warm weather packaging if we think it's necessary. We will contact you to discuss other shipping options if your order is too large to "fit".
---
Warm-Weather Shipping
We do extensive weather research for every package we ship, checking the temperature here in Tualatin, Oregon, at the hub or ground route it will travel through and at the destination. If we think the route of transit will be too hot and you allow us to make the judgement call, we will add warm weather packaging at no extra charge. You should only add warm weather packaging to your order as a product if you want us to use it regardless of the temperatures. If you do, you will be charged $7.00.
We try to use the best heat protection there is to offer. Although Jerry did not take a thermodynamics course in college, he is smart enough to figure it out. When we first started 24 years ago, he did testing on the different types of packaging. Styro won hands down; We use it and recycle it here in Oregon. It is actually recyclable in many places. The issue with styro is that you usually need to take it to a recycler. The other method we use is Cool Shield Thermal Bubble. It's not as good an insulator and is not recyclable, but it is easier to dispose of and most people feel better about it for some reason. We use both methods depending on the temperature.
---
Assortments
If you don't know exactly what to buy or where to start, Chocosphere can help! We have so many products that it can be overwhelming. Just use the brown selector bar and choose the tab for 'Gifts & Collections'.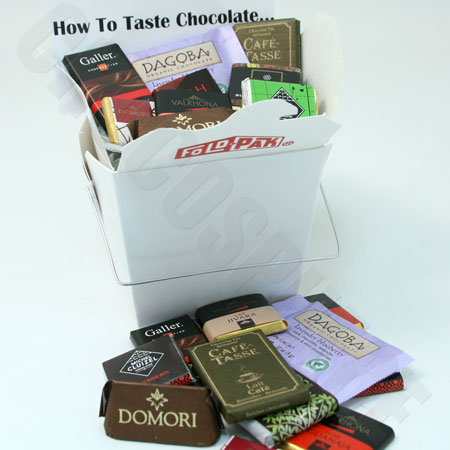 Scroll down to 'Chocolate Assortments' and you'll find choices for assortments of individually wrapped squares that are suitable for gift giving or your own personal enjoyment and then various sizes of chocolate assortments from petite to jumbo. You can select dark, milk, assorted, nut or alternatively sweetened. You can also give some guidance in the 'Comments' section of the 'Checkout' page if you'd like and we will be happy to do our best to honor your preference while spending your money wisely. You will get at least the dollar amount in value for the product. We try to keep track of every item that is selected but that is stored away in our records with the order paperwork. If you love something make sure you keep the wrapper for future reference. That way you can get it again.
---
Incr'Edible' Chocolate Deals
You seemed to like this deal and we're doing it again. Get $10.00 off your order of $100.00 or more in merchandise. It applies to all orders placed online at www.chocosphere.com, subject to the conditions noted below, and can be taken with the code $10.00OFF. Use the code in the 'Gift Certificate/Coupon Codes' field of the Shopping Cart screen and get your $10.00 off.
*Important Conditions: This coupon is only active from Wednesday, June 8th, 2022 12:00 AM PDT until Tuesday, June 14th, 2022 11:59PM PDT. This offer will not be honored retroactively and applies only to merchandise in stock at the time the order is placed. All sales are final. Purchases of Gift Certificates and Warm Weather Packaging are excluded. Orders must be placed online using the coupon code. Phone and e-mail orders are not eligible for this promotion.
---
Recipe Corner
Dutch Hagelslag toast (This is a common breakfast in Holland)
INGREDIENTS
INSTRUCTIONS
Toast one piece of bread until lightly browned.
Spread the piece of toasted bread with butter.
Sprinkle about a tablespoon of chocolate sprinkles on top.
Enjoy with a glass of milk!
---
Customer Service
Of course we are happy to help over the phone, but we do appreciate it when you place your order on line. It helps us give the most prompt and accurate service. And when you need help, we are here for you. There is generally someone answering the phones between 8:30am and 4:30pm Pacific Time, Monday through Friday, with the exception of commonly observed holidays.
There are five of us answering phones at Chocosphere, where we speak fluent Chocospherian. We try hard to answer all calls personally during normal business hours, but occasionally one slips over to voice mail. If you call and end up in voice mail, please leave a message. We will do our very best to call back promptly. If by chance you don't hear back from us in a reasonable time, please call again during our normal business hours.
We each have varying levels of experience. It is our goal to happily serve you the very best chocolate!!
Finally, and very importantly, our web site lists our service commitments as to when we ship an order based on when the order is placed. However, we certainly understand there are circumstances where you may want us to process an order faster, when you need your chocolate "now"! If you need your order shipped faster than our listed service commitment, please place your order online letting us know of your need in the "Comments" section, and then call us at 503-692-3323 x 0 for Customer Service) to let us know. We can't guarantee early shipping, but we always try hard to provide chocolate happiness to our valued customers.
---
Newsletter
If you want us to send a copy as an email every time there is a new issue or to tell you about special offers, please create an account at chocosphere.com and check the newsletter box.
---
Topics:
If you have a topic you would like us to cover in the newsletter, please drop us a line: customer-service@chocosphere.com and we will be happy to include it in a future edition.
Contact us at 503-692-3323 and press 0 for Customer Service
Fax 503-692-1494